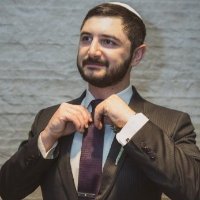 Dmitriy (מרדכי) Hanuka
Director of Product Management at Gigastone Corporation
I bring fresh-eyed vision and over two decades of experience in product development, management, marketing, distribution, sales, digital media and advertising innovation.
I have created concepts, branding, copy, layouts, and promotional videos. I am a proven social media wizard who has, for example, gathered some 500,000 Facebook page likes through viral posts, some reaching over 2 million users.
Among my talents and achievements, I think you will find the following noteworthy:
• I love to daydream and brainstorm for big ideas.
• I am a gadget junkie and know anything and everything about technology..
• My analytical skills are sharper than Chuck Norris's beard.
• I was born to be a leader right out of my Mother's womb, guided the doctor during delivery. These skills helped me create GripSense brand while managing a staff of eight superstars.
As someone who truly loves spontaneity and innovation, you will find me to be bursting with ideas and busting out fresh thoughts hotter than bread right out of the oven. I am a talent who is eager to provide go-the-distance creativity and long hours to prove his ability and achieve his dream.
AWARDS
• 2014 Best of CES, Ford Twitter Challenge. Headline: "A day of sunshine worth miles of enjoyment" was #1/10,000 headlines selected by Image Nation America advertising agency for solar-powered concept car. Won $5,000 Sony 55" 4K UHDTV prize.
• Editor's Choice Prize awarded by Poetry.com.
Social Media Marketing
90%
English –

Native or bilingual proficiency

Russian –

Native or bilingual proficiency

Hebrew –

Limited working proficiency

Spanish –

Limited working proficiency
Created a social media viral explosion that built a strong media/entertainment channel with half a million users/subscribers worldwide. Each individual post reaches up to 900 thousand facebook users and 20+ million overall. Link
Developed Credit Card Database from ground up to be an industry leading credit card research website. Link
Director of Product Management
Gigastone Corporation
January 2016 – Present (3 months)Irvine, CA
Directing Product Management for entire GSA assortment. Overseeing global product development for Gigastone Corp.
Main focus:
Gigastone Photofast iFlashDrives & Memory Cables. USB C
– Product lifecycle management from concept to phasing out of the product(s) across all products/product lines.
– Management of existing product lines, increasing profitability and setting of Profit and Loss goals for each product/product line.
– Establish metrics to measure effectiveness and drive improvements.
– Creation of product strategy, product roadmaps and specification of product requirements.
– On-going development of the product vision and strategy. Synthesize ideas on strategy, planning and execution of next generation of products. Building consensus and driving execution.
– Maintain product and market knowledge. Analyses and keep abreast of market trends.
– Aggressively identify opportunities for improvement and incorporate new product features on an on-going basis. Define market opportunities and develop product briefs.
– Lead cross-functional teams to realize product concepts and bring them to market. Work with customers and internally to define and refine product requirements.
– Best practice research and benchmarking. Conduct competitive analysis and develop a strong understanding of stakeholders to drive development decisions.
– Development and execution of tactical plans.
– Act as product evangelist both internally and externally.
– Develop and manage relationships with customers.
– Function as the technical contact point.
– Addressing complaints and resolving problems.
– Manage a team product development staff including independent contractors.
– Interviewing, hiring and training of product development staff including independent contractors.
– Planning, assigning and directing workloads of product development staff including independent contractors.
– Appraising performance, rewarding and disciplining product development staff including independent contractorsÓ
Principal Product Manager
Gigastone America
– (1 year 7 months)Irvine, CA
Managing top products for Gigastone America (Dane-Elec Corp USA):
Gigastone Photofast iFlashDrives – memory for iPhones/iPads
Gigastone Mobile Accessories – powerbanks, OTG drives, Media Streamers, Cases, ect.
– Creating and executing product road maps
– Managing the complete product life-cycle
– Creating and publishing product requirement documents
– Developing market and feature requirements for current and future products
– Creating Product Launch 'Kits'- (prescribed collateral and sales training)
– Participating in creating of packaging and variations
– Participating in press interviews and events
– Conducting market research and generating new business opportunities
– Conducting sales training
– Developing promotional and customer-specific product variations
– Making key account sales calls to introduce new products
– Creating spiffs, promotions and velocity building events to achieve goals
– Coordinating production and managing inventories to the forecast
– Estimating new product forecasts and managing stock rotation
– Assisting in the quality assurance/quality control program
– Creating sell-in presentation of new products for sales
– Gathering information on competitor pricing, sales, methods of marketing and distribution
– Analyzing potential partner relationships for the product
www.Gigastone.com
Co-Founder
GripSense
January 2012 – June 2014 (2 years 6 months)Mission Viejo, CA
Led development of GripSense iPad case. Gained iconic, world-renowned brand recognition through website and YouTube promotions. As a result of creative copy and ingenious digital marketing content, GripSense is now synonymous with protection, style, ergonomics, innovation and quality. Problem-solving brand-building on a shoe-string budget.
Achievements
– GripSense earned features on HGTV and DIY Network TV show, "I Want That"
– Garnered top reviews in MacWorld and Mashable and many other publications
– Arranged impactful product placement at 2014 Consumer Electronics Show (CES)
www.GripSense.com
Director of Marketing
R & J Entertainment
2007 – 2011 (4 years)Santa Ana, CA
Expanded market for $1.99 DVD's manufactured by R&J. Built multistate distribution chain from >100 to 2000+ retailers. Hired and managed team of up to 12 salespersons.
Achievements
– Came up with brilliant idea to insert paid print ads and coupons into DVD jewel cases
– Increased company profits by 37%
Marketing Specialist
DiamondLot.com
2006 – 2007 (1 year)Newport Beach, CA
Helped huge car dealers sell cars online in the Orange County area. Took professional pictures of cars and uploaded information on unique features. Created brief, catchy promotional copy. Handled ~$1,500,000 worth of vehicles daily. Dealt with demanding owners and managers.
Achievements
– Indirectly responsible for over 5000 sales over the span of one year.
– Created lasting relationships with dealership owners/managers for DiamondLot.com.